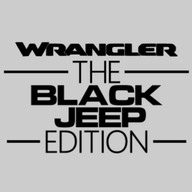 Joined

Aug 9, 2018
Messages
Reaction score

411
Location
Vehicle(s)

2008 Toyota Corolla S, 2018 JL Sport S Unlimited
Vehicle Showcase
First post. I'm due for a new vehicle. My first car was a 1997 Acura Integra GSR. Had kids and got a VW Turbo Station Wagon. Got bored with the automatic transmission and ended up with a manual Toyota Corolla S for the last 10 years. Never had a Jeep but I'm trying to do my homework before going into the dealership. I've been doing my research online, watched YouTube videos, joined this forum and I still have questions. Yesterday, I started trying to contact dealerships in the Bay Area and asked for their best offer on a black Jeep Wrangler JLU Sport S, manual transmission. Out of 18 dealerships, I have two sales people replying to me via text and email. Two of the websites didn't work when I entered my information and all the others have replied and said they would have someone from their team get back to me. I have test driven the JK and the JL.

I have a few questions.
How do you get a golden ticket?
What are the must haves in a Jeep? I'm choosing the JLU Sport S because I want power windows.
I guess I have to go with the hard top because the moving top hasn't been released yet, according to the dealership.
I'm planning to add the Infotainment system for the bigger screen.
Don't think I need much else after that, unless I see some suggestions here.

I checked with USAA and there's a Sport S for $34,127 which is the USAA Member Average (MSRP $36,140)

Dealer 1 is offering $36700 + fees.

Dealer 2 is offering MSRP $40,710, Discount $1,202, Sales Price $39,508
They also replied after I asked if they can go under invoice:
"I am sure we can work something out in terms of price.
Honestly, the best price comes when you are here. They will pretty much do anything to get a deal done when you are here in person."

Just got this from Dealer 3: Selling Price: $45,995 - $43,946 pluls tax&lic.

Is there a better time during the year to buy?

Should I negotiate for free maintenance?

Am I on the right track or is there something I'm missing that I should be doing?