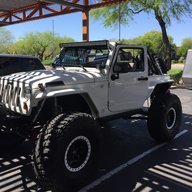 Joined

Apr 3, 2017
Messages
Reaction score

983
Location
Vehicle(s)

'21 JLUR 392 XR, '21 JTR, '21 JLR, '09 JK
So if I want to pay a little more so I can have said unit, I should just follow said protocol and adhere to a strict cost guideline and not purchase??? On the flip side, if someone comes up and offers me $15K more for my 392 (if I was selling it) than I paid for it I am supposed to refuse it???

I understand the theory behind the thought process of avoiding higher costs, but it isn't going to ever happen. Always going to be someone out there willing to pay more. And someone willing to charge more. It's called capitalism.



Sam
No that's not at all what we're saying, lol. Maybe your comment was directed at something else that I missed, though.
Your points are entirely valid but many on this forum don't realize they can avoid paying sticker or above. Some because they don't know where to look and others because the allocation required statements may not be true. Dealers don't even seem to realize this, which I suppose isn't surprising.
Anyway — that's where the "should" came from — for those who think they're forced into paying and may not realize the options that exist.