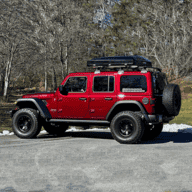 First Name

Don
Joined

Dec 2, 2019
Messages
Reaction score

249
Location
Website
Vehicle(s)

2020 Jeep Wrangler Sport (JL) 3.6L V6 Auto 2 door
Build Thread
Occupation

Systems Engineer
Vehicle Showcase
My build:
https://www.jlwranglerforums.com/forum/showcase/sususucio.1759/
Trails I plan to visit:
UTAH
- Poison Spider (4-6) <-- did in 2019
- Fins And Things (3-4) <-- did in 2019
- Hell's Revenge (3-6) <-- did in 2019 but going back to do Hell's Gate!!!
- Elephant Hill (5-7)
- Top of the World (6-8)
- Steel Bender (6)
- Hole in the Rock (4-6)
- Cliff Hanger (6-7)
- Golden Spike (6-7)
- Metal Masher (5-9)
- Pritchett Canyon (7-9)
CALIFORNIA
- The Rubicon Trail (1-10)
- Gold Mountain (6-9)
- John Bull (7-9)
- Holcomb Creek (6-8)
- Pinyon Mountain Trail (3-9)
- Dusy Ershim (7-9) <-- might be closed
COLORADO
- Engineer Pass (5-6) <-- 12,000 feet!!!
- Black Bear Pass (4-6)
- Poughkeepsie Gulch (5-7)
- Ophir Pass (3-4)
- Imogene Pass (4-6)
- Holy Cross (7-9)
ARIZONA
- Schnebly Hill Trail (2-5)
- Table Mesa Road (1-4)
Last year I had 33" tires and Dana 30/35 axles, and no lockers. When I got to Hell's Gate, I was warned by just about everyone to avoid Hell's Gate. I was devastated. #sniffle Well, this year I have Dana 44s, lockers front/rear, and 35" tires. I'm ready this year baby!
I have a bigger (2 person) tent than in the past three years. I plan to camp out 4-5 days per week. Then 2-3 days per week I'll get a hotel room. This way I can replenish food/water/supplies, and get some rest, watch a show or two on cable, and have time to edit photos/video for my blog.
My Jeep is prepared for the trip. Dual storage drawers, a 36L fridge, lots of battery power and inverter. Tailgate table, a Partners Steel stove and a 5gal propane tank. 5gal water container, etc. No plan to have a shower kit, since I'm trying not to go way over my max weight on the Jeep.
I'm trying to plan this route, but I haven't found a good app that'll run on a Mac and iPad. This way I can access/edit things along the way. Any advice?
Oh, I've been preparing for this trip for the past six months, read more at
https://donmontalvo.com
.