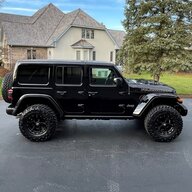 First Name

Rob
Joined

Dec 17, 2017
Messages
Reaction score

339
Location
Vehicle(s)

2021 392 Rubicon, 2020 Shelby Cobra, 20' Telluride
So, although I've been a member since 2017, I haven't really been active on the forum until recently. And I wanted to show a couple pics of the wheels I'm considering for my upcoming 392, with it's unique bronze accent's, to get your opinions, (especially since you other 392 peeps may have the same questions about wheels that will work with the bronze accents.) Is that ok to do here, or can I only do that in the wheel & tire thread?
Thanks in advance,
-Rob
EDITED: New Comments begin past this point, Now with lots of pics!
I still hope this is ok to post here, but since a couple of you said to go ahead, I'm going to to give it a shot.
*ALSO, fair warning, this is a little long, to give a little context for what I'm looking for & why. But it's not too bad, so feel free to keep going if you're interested. Or bored.
Ok, so a little context: Nearly every vehicle I've ever owned was black, as it's long been my favorite color. (Yes I'm a glutton for punishment, apparently
) However, I was admittedly a little bummed when I first saw the configurator pics of the Black painted 392 like the one that I ordered, as it's color scheme comes across a little more "black & gold" (circa 1980's) to me than I expected. I even joked to my wife that it looks about "one screaming chicken" away from Smokey & The Bandit's Trans Am.
(Just google "smokey and the bandit pics" if you're too young to get that reference.)
First world problems, for sure, but I even started contemplating removing or replacing the Rubicon hood stickers that have the bronze borders, and swapping out the tow hooks and any other exterior items that have the bronze 392 theme, so as to accommodate a wider variety of wheel colors, but that seems a little extreme, at least for now.
Anyway, I had already previously Photoshopped (POORLY) my two favorite bronze wheels to a regular Rubicon's configurator pics with the red accents, while I was killing time waiting, so I went ahead and did the same to the new 392 config pics when they came out.
Fortunately (at least for me, I guess) I actually like the black body, bronze accent color combo a LOT better with these aftermarket wheels on, when compared to the stockers. Which was surprising to me that just some different wheels would impact my opinion that much. But, regardless, I am still new to modding Jeeps, even with something as simple as changing wheels and tires, and I am hoping to get your opinions on both the appearance, and the practicality of these.
*Important note:
I am just going with 35's for now, and although I may someday go bigger, it likely wouldn't be at least until mine's out of warranty, so not any time soon.
Having said all that, while looking for that "rare" something with both black & bronze colors, these two are the styles I found that I liked the best.
These are both 18x9 Fuel wheels, and I don't believe either of these two styles are beadlock-capable, but I am not much into super-slow-speed rock crawling, so I'm not sure I'll need those if I don't intend on dropping the tire pressure crazy low when I'm off-roading.
Is that an accurate assessment?
(I also am not sure yet what offset I will want/need, nor if these are even available in whatever offset I decide to go with, so any suggestions there would be welcome as well. Along those lines, I prefer a wider stance that may even stick out a bit, as long they won't rub the fenders under full-articulation.)
Anyway, in case anyone is still reading, here ya go. The first several pics are of my current favorite, the Fuel Vapor, and the last several pics are of my second favorite, the Fuel Beast. Let me know if you have any thoughts. Unless of course you're a troll, in which case you can keep your thoughts to yourself.
The first three Pics are Stock Photos of the Fuel Vapor from Xtreme Terrain
:
*And these are my hilariously amateur attempts at photoshops with the Vapors
:

(and before anyone says it, don't worry, I'm not quitting my day job.)
Now, Here are Three Stock Photos of the Fuel Beasts from Xtreme Terrain
:
*And finally, here's the last of my photoshop attempts, with the Fuel Beasts:
Clearly I've had way too much time to fill while waiting.....
But, that's all I've got. If anyone actually made it this far into my thread, let me what your thoughts are.
Thanks as always for any help,
-Rob
Last edited: