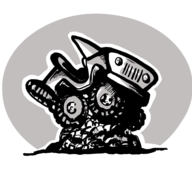 Well-Known Member
Rock Sponsor (Level 1)
Joined

Apr 18, 2017
Messages
Reaction score

7,882
Location
Website
Vehicle(s)

2021 JLU Rubicon, 2017 Chevy Tahoe
Build Thread
I think some people just make it a matter of pride to get the worst fuel economy possible. Much like a Coal Roller blowing as much smoke as possible at someone driving a Prius. Now I like diesel trucks, and I seriously considered the Titan XD and the Ram 2500 trucks before settling on the Wrangler, but I would not waste my money on all of these delete kits and chips to just blow smoke and get 10 MPG...

I will also refuse to waste my money on these Tazer programmers to permanently disable ESS. If I find myself in a situation where ESS will become annoying, like heavy stop and go traffic on I-40 through Winston, I just push the button... simple as that. Otherwise I will enjoy not constantly needing gas like I used to with my old truck.
Well I agree with all that.
But even beside fuel economy and emissions, if I were to design how a car works without any preconceived notions of how ICE works or anything I think it would be like a golf cart. It is powered when you are moving and not when you aren't. It just doesn't make sense to run an engine that doesn't do anything. Now because we have 100 years of cars running when they don't need to we think that it is intuitive. It isn't. It is a hack.