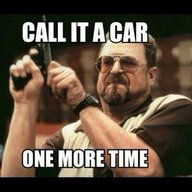 First Name

Mike
Joined

Aug 16, 2018
Messages
Reaction score

12,106
Location
Vehicle(s)

2019 JLUR Stingray 2.0 turbo
Vehicle Showcase
A lot of people think the 2.0L has a lot of turbo lag, but it turns out it's the crap throttle response. A pedal commander fixes that issue, but I've noticed the 3.6L seems to have better throttle response compared to the 2.0L.
I fully agree with your comment about the programmed delay in throttle response.
My previous vehicle had a 1.6 i4 turbo motor, which had a noticeable lag. The rpm's responded near instantly to throttle input, but boost took a second or so to kick in and push. It made me wait for larger gaps in cross traffic, to avoid being a dick to other drivers. The JL 2.0 in stock form has a similar delay, but it's in the rpm's reaction more than the turbo.
I added the EVC iDrive throttle controller, and it's a whole new animal. The delay between the throttle pedal and throttle body butterfly valve is completely gone, and there's a couple dozen levels of sensitivity adjustments to choose from that narrows the length of throw to get to wide open throttle. It's funny that I can now shoot gaps in traffic easier, without being that guy, with a 5500lb JLUR lifted 4" and on 38's than I could with a sportier 3100lb torque vectoring awd crossover.