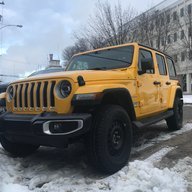 Joined

Oct 22, 2019
Messages
Reaction score

243
Location
Vehicle(s)

2020 JLUS, HellaYella
I wasn't sure where to put this, so mods please move it to the appropriate forum.
We bought a scaffold (with wheels) hard top storage, but I need some assistance in making a hoist for single person removal.
The scaffold (on wheels) is parked in our carport (no garage) and will be (eventually) stored in a shed. The ceiling of our carport is 12' high and has no visible wood (it has some sort of aluminum sheeting, so I can't see where the beams are behind it). We would like to build a cam strap style hoist system to lift the top up a few inches (or enough to drive the jeep out from under it) then move the scaffold under the top and lower it back down (placing the scaffold, now with the hard top, securely back in the shed).
The problem is that our carport is really tall and we're not sure how we're going to get up there, and once we do we're not sure how to find the centre of the beams (for security). The front of our carport however has a large wooden beam that runs directly, with a visible "gap" where we could run some straps right up and over. The problem with this of course is we would now have two hanging points instead of four.
Being that it only needs to hang for long enough to drive the Jeep out from under it is good (no long term hanging storage), but I'm not really sure how to hang it securely on two points. Remember though that it only needs to hang for a few minutes...
Does anyone have any ideas? My other option is to build something like this, but being as we just bought the scaffold and have to build a shed around it, I don't want to have to build a third thing. That said I wish I saw this before buying the scaffold... (image borrowed from google)