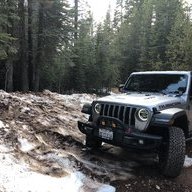 First Name

James
Joined

Aug 19, 2018
Messages
Reaction score

199
Location
Vehicle(s)

2003 Rubicon, 2018 JLU Rubicon
There is a bit of a cool story that goes along with this. I recently ordered an ARB single compressor CKMP12 and planned to do a quick connect setup on my JLUR with SB50 Anderson Powerpole connectors. I was even planning on making a jumper cable pigtail also with an SB50 connection to be able to use the compressor with other vehicles. I ordered the SB50 Anderson connectors and picked up 8awg marine primary cable. Funny thing is 4wp made a mistake with shipping then called and had me drive down twice to the store to pick it up... Both times I went to the store they looked but could not find the single compressor... However the second time I did not leave empty handed but with the dual compressor portable kit CKMTP12 with tank at no extra cost. They definitely made things right!
Now my issue is my plans (and the connectors I purchased) are out the window due to the two hot wires (instead of one) and the higher amp draw of the twin motor compressor.
So now I'm trying to make new plans and need a bit of help from people with more automotive electrical knowledge then me and possibly experience with Anderson connectors. I'm not inexperienced when doing wiring just my experience is in wiring homes…
I'll go into a little more detail and a couple ideas I had.
So the plan is to remove the jumper clips and replacing them with a Powerpole connector. Now my issue is since this is a dual compressor there are three wires, 2 hot wires (8awg I believe) with 45amp fuses on each (one for each compressor) and a negative which I also believe is 8awg.
I currently have an SB175 connector hooked to the battery of my JLUR, mounted on a rail with my winch solenoid, which I use as a quick connect for jumper cables. I'm thinking one possibility is it to use the SB175 I already have installed? The only question is can I combine the two 8awg hot wires in one port of an SB175 and the single negative wire in the other port, SB175 lists 6awg as the smallest size but I was thinking I could fold the negative wire back onto itself… or do you think it would require a reducer or something else and if so what? This is my preferred setup since I already have a SB175 connected. Also since I have jumper cables with a SB175 connector I believe I could connect the jumper cables to the compressor allowing me to use the compressor on other vehicles where the jumper clamps would be required without having to making a pigtail
My second thought was to use 3xPP75 mini Anderson connectors (single wire connectors that can be clipped together for different configurations) and mounting wings (to mount to the rail) in a 1x3 configuration. However this setup is significantly more work and would require me to make a dust/weather cap since I can't find anything for a 1x3 configuration. This setup would also require me to make a pigtail with the pp75 connectors on one end and jumper clamps on the other to use on other vehicles...
I apologize for the long write-up and I understand this is an unusual setup and a big ask but I have been spending a lot of time trying to figure this out on my own and would really appreciate some input.
For reference this is my jumper cables SB175 connector.