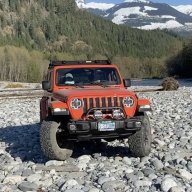 First Name

Jerry
Joined

Dec 29, 2018
Messages
Reaction score

4,416
Location
Vehicle(s)

2018 JLU Sahara 2.0L
Maybe someone can help me resolve my age long issue with auto headlights not working properly -- as a result of (failed) restore to stock settings with Flashcal that ended up messing up many of my sensors.

My auto headlight sensor will never turn off the headlight during the day/driving in the sun.
But it will turn on the headlight when I duck under shades/tunnels etc.
After I get out of the shade, the headlights will never turn off again, until I turn off the vehicle, and start it up again during daylight.

So in short:
-Sensor only turn on headlight(when dark), but not off(during daylight), when vehicle is running.
-Sensor appears to reset after turning off the vehicle - if parked during daylight, it will turn off headlight on startup, but never again during driving.

I tried pulling fuse F46 - AUTO HDLP LVL MOD/LVL MTR/HDLP SW, but it didn't resolve the issue. Dealer refuse to look at my issue due to aftermarket headlights. And Flashcal support is non existent, as soon as you encounter any issues they go AWOL.

Posting here to get a little more coverage, any help would be much appreciated!