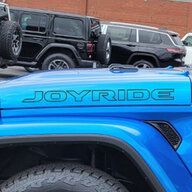 First Name

Ricky
Joined

May 4, 2021
Messages
Reaction score

1,402
Location
Vehicle(s)

2021 Hydro Blue Sahara Altitude
Build Thread
Occupation

Marketing
July was mostly cosmetic upgrades that I could do quick/easy, but August I have ~$1.5-2K to get "offroad ready"
To be clear, by "offroad ready" I actually mean "recovery ready". I plan to stay mostly on the easy trails as a newbie to offroading, but want to be sure I'm able to help myself (or others) out. Included in this is steel bumpers. I want to do the bumpers in August first so the rig has time to settle and then for September I'll have a clear picture of the kind of lift that I need, etc.
So...here's what I've decided on thus far:
OEM-style steel bumpers - I think I've talked myself into the KUAFU knock-offs on Amazon, based on this thread. I've probably researched bumpers the most out of any mod thus far, and just can't decide between full or stubby, so Modular seems to be the best option. I also don't have the funds for a legit MOPAR one, and I like that the winch is sunk down and it looks nice with a small bar and uses the factory fog lights. Plus if they suck it's Amazon so easy returns.
Recovery Kit - this one seems like it has all of the basics and is pretty good quality. Any reason I shouldn't get this one, or another recommendation? I like that it's all together and not piece-mealed.
Comms - I'm not ready for a full install, and have a few situations where portable radios would be handy, so I'm leaning toward these Midland hand-held to get started. Plus they're cheap enough that if I *did* decide to go full install later, I wouldn't feel like I'd sunk much into these. My understanding is also that since these are low-wattage, I wouldn't need to worry about a HAM license, correct?
Safety - haven't fully decided on a fire extinguisher but will ensure I have one before I hit the trails. I also already have a first-aid kit, so don't need to budget for that.
Air - I already have a tire pressure gauge with an easy release valve. I *might* could sneak in something like this Smittybilt, but was also kinda hoping that if I'm going to a legit offroad park, I'd be able to mooch air off someone.
Winch - this is where I haven't really done *any* research and would love some insight. The Badlands winch from Harbor Freight seems to be the best overall value, but am I going to regret that? 12,000 seems like more than enough, and it has a synthetic rope, which I understand is the better option. Would this be a decent selection, given my noobiness and the unlikelihood that I'm going to do any more advanced trails? Do I even *need* a winch? At most I have ~$500-700 to budget for this, given everything else.
Based on my spreadsheet, I can do all of this for ~$1.7K not including tax/shipping. I'm totally comfortable installing the bumpers myself, and it seems like winches are relatively simple, especially if I'm doing it at the same time as the bumpers?
Unfortunately, my budget is pretty strict on this, and the closer I am to the $1.5K end of my range, the better for my marriage.
Again, this would just be enough for me to not be a total lame duck at an actual offroad park, and sticking to the easy beginner trails, since I'm a first-timer anyways.
UPDATE:
You all have been extremely helpful! Based on my anticipated usage and the guidance in this thread, I've made some adjustments to my plans:
1. Taking a fresh start to my bumper research. Requiring modular put me too much in a corner with options. I still want a sunken winch, OEM lights, and bar, but am open to just a full width, as long as the ends go "up", if that makes sense. There's a much bigger selection with these requirements, and it'll allow me to get one that has a decent winch support built in.
2. Going to push the winch purchase further down on my list - maybe next Spring. It sounds like it's much less of a requirement than I previously though, especially if I'm always hitting the trails with a buddy (or a few) and have a better quality recovery kit with me.
Thanks again for all of your tips and suggestions.
Last edited: