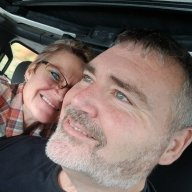 First Name

Ted
Joined

Aug 3, 2018
Messages
Reaction score

14,648
Location
Vehicle(s)

JL Unlimited Rubicon
Occupation

Retired from Corrections....I have stories.
So I have 107 days to finish planning this trip. I expect to put on approx 20,000 miles. The general plan is to leave January 1st and head to Padre Island, then wheel all.the states west of Texas.
Time Line
January to March. Texas, New Mexico, Arizona, Sothern California
March - May will be Nevada, Utah, Northern Arizona and Northern New Mexico. We only have a few hard dates, one of them is 4/10/22 be in Moab for EJS. We have 20+ friends meeting us and wheeling with us in Moab. Plan to spend about 4 to 6 six weeks in Moab.
June, is slated for Colorada.
July 1st, we point the Jeeps north and actively start pushing north towards Alaska. We have set 10 weeks set aside to travel to Alaska and explore Alaska.
Mid-September be in Western Alaska and put the Jeeps on ferries and island hop from Alaska back to Washington.
October explore Washington, Oregon, some of Northern California and Idaho. Then head back to Michigan and be home mid November.
Things that we already plan on attempting to visit will listed on the next post.
What I would like is that knowing our loose itinerary, if you have a suggestion of a place to wheel, camp or a sight that should not be missed, post it up so I can add it to my list.
What I do is build a list and then drop the points on google maps. As we travel, I can look at the map and see what we have already pinned and make decisions if we should go to the pinned locations. We will not hit every pin as we all know that there is a cost in money and time to de everything. We will look at the map and where we are and plan accordingly as we move from state to state. We will set up base camps and do day trips from camp.
If you are not comfortable posting it on an open thread, but are willing to share it with me in a private message, that would be cool also. I will not share locations of anything that is sent to me privately or noted that you do not want it shared.
I have been planning this adventure for approximately 6 years and this is why I bought my JLUR. I have spent the last three years preparing my Jeep, my camper, and my skill set to do this. There will be three JLURs going on this trip.
If you have seen any of my post from my Jeep travels, you have probably seen the cast of characters.
The people going with me... and their Jeep and campers.
This is a super guy and girl. He and her are ride and die type of friends. He looks tough, but we call him Princess.
They are shutting down a million dollar business for a year to take this trip.
this guy and girl..... If they can find her a job that she can do remote...... He is a long time friend and she is the first girlfriend that he has ever introduced us to.... Since his divorce 10+ years ago. She is tricking cool.
we have been riding ATVs, SxS and motorcycles together for 25+ years.
Then me and my crazy ass wife. We will have been married 32 years at the end of the month.
of course my set up.
We all are experienced Jeep wheelers, campers, navigators. We all have skills that help with survival, emergency first aid, Jeep and camper maintenance and repair, recovery, social skills. (we have all traveled together for years), I talked both of them into getting Jeeps and campers. Then with my constant chatter about dreams of going form Arizona to Alaska via Jeep camping.... They just had to come along. They said that I was not allowed to leave them behind. Let me quote Prinsess.. "A trip of a lifetime..... a bucket list adventure."