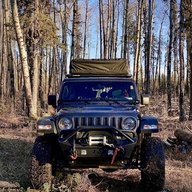 First Name

Josh
Joined

Mar 23, 2020
Messages
Reaction score

27
Location
Vehicle(s)

2020 JLUR
Vehicle Showcase
Hello All,
Back ground:
First time jeep owner as of 20 April 2020. I've owner 7 trucks prior to this Jeep...last truck was a 2015 ram 1500
Issue:
My jeep JLUR handles like trash, its like driving a boat(with or without the RTT on the top). drives OK around town but the steering is very loose and kinda sloppy feeling..its all over the road on highway....is this just a "JEEP" thing ?
Objective:
Collect advice/Info and potentially parts recommendations to help me fix my wondering jeep so i can actually LOVE my Jeep like I so badly want to.
Overview:
I purchased the Jeep new from the dealer with the Mopar 2" on it - Never got to drive it stock to compare .....1 week later I installed 35" tires.
The steering was loose feeling so I also installed a Teraflex front track bar which helped a tiny bit, also threw on a Fox ATS steering stabilizer....that did nothing at all
I have a Synergy front track bar and sector shaft brace on order...been 6 weeks waiting so far...hoping this fixes the issues.
Questions: What Am I missing? - Constructive criticism, please help me make my jeep a beast !
what do I need to stiffin up the steering so I actually feel comfortable to drive with one hand on the highway ?
Do i need adjustable control arms for the Mopar 2"? - some people get them and others don't bother...mixed bag it seems
So basic Jeep Noob questions here...sorry for the longer read
But I looked the forums over and over for something to assist and bought a bunch of stuff off recommendations so far not much luck.... if anyone cares to chime in I'd greatly appreciate it
Cheers
Last edited: