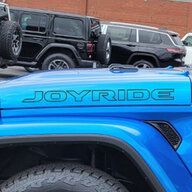 First Name

Ricky
Joined

May 4, 2021
Messages
Reaction score

1,210
Location
Vehicle(s)

2021 Hydro Blue Sahara Altitude
Build Thread
Occupation

Marketing
My new
Sahara Altitude
should be ready to pick up in a couple of weeks, and I'm getting antsy. I've got ~$5.3K budgeted for the first set of "make it mine" mods, and have been going over the list back and forth for weeks. Figured I'd get some forum input while I'm at it.
Below is my current ride, parked next to a newer-looking Sahara at Wal-Mart the other day, for height comparison.
My Jeep will primarily be a DD, mostly highway, but I also plan to hit a few local offroad parks as I get introduced to offroading in general. If the trails are rated 1-5 stars, I'd say I'd probably be comfortable sticking to 1-2 stars - not [yet] at a point where I'd be OK breaking something on my Jeep and having it out of commission even for a day. I would *like* for my Jeep to sit as high as my truck currently does. It's an '07 GMC with a 3" RC lift (don't judge) sitting on 275/55R20's.
So....here's the mods that I'm currently planning.
1. 33" tires = $1,300
2. Rubicon take-off springs = ~$600 (FB marketplace)
3. Bestop Sunrider = $900 (I may be able to sneak this one into the dealer price and avoid it hitting this mod budget)
4. DV8 Modular Front Bumper = $700
5. DV8 rear bumper = $560
6. Weathertech for the Jeep = $305 (floor + cargo)
7. Weathertech for my wife's Lexus (brownie points) = $310 (floor + cargo)
8. Stubby Antenna = $25
9. Hooke dead pedal = $35
10. Rugged Ridge Door Sill protectors = $50
11. Brawlee Hard Top LED bar = $60
12. N-Fab NERF steps = $370 (required if it sits at the same height or higher as my truck, via my wife)
All that totals up to ~$5.1K, plus tax puts me just a little over.
Where I'm not confident:
1. Wheels/Suspension - it *seems* like the Sahara, off the factory line, will sit within an inch or so of my current truck. Is that right? If so, I can probably forgo the 33" tires, though I may still do the Rubicon springs for a little extra lift (for aesthetics, admittedly). If I can skip the wheels and roll on the factory ones, that'll save a huge portion of the budget for other stuff (see #4 below)
2. Weathertech vs Mopar? I like the WT because it goes fully up the walls and such
3. I go back and forth (and all over) on the bumpers. I know that I want steel ones, that can take a bar, with a hidden winch, and able to take the factory fogs. I can't pick between full width or stubby, so the DV8 seems to give me a good solution and at a fraction of the cost of MOPAR ones. Others I should be considering, or a reason to pick stubby vs full?
4. Am I missing anything that I should be factoring in? (I'd have to remove something to make room for any additions)