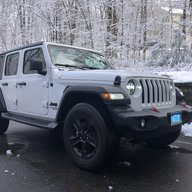 Joined

Sep 19, 2019
Messages
Reaction score

10
Location
Vehicle(s)

20' JLU Sport S
The KBB is 17500 for my car. I'll swing by carmax but I'm guessing they will be several k under that which negates the amazing Criswell price.
Years ago KBB valued in favor of the consumer - but the dealers all used Galves and auction/wholesale data which made KBB basically a fairy tale. You'd walk in and tell them about your KBB quote and they'd laugh.
Now I've noticed KBB learned they can make more money getting into bed with the dealers - and now they have this wonderful thing called KBB Instant Cash Offer. Every dealer I went to around here used KBB ICO like gospel - because nowadays KBB valuation is in the dealers favor, not the consumer.
One thing to know is that the KBB ICO differs from the generic KBB online calculation in that condition defaults to FAIR. So a car you KBB value online outside ICO - you'll probably objectively look at your car and estimate condition at GOOD or higher. All KBB ICO calculations I just encountered lined up with FAIR - which meant i had cosmetic and mechanical issues that needed fixing.
I traded in a 2016 Z51 Corvette with 14,000 miles and 7/32 tread all around. True enthusiast vehicle - not even close to FAIR. Didn't matter - the ICO was the ICO. It wasn't until I found a more motivated dealer to offer over ICO and was then able to leverage that up with another dealer that I got better offers. Traded it for $42,500 and KBB ICO was $40,800. Generic KBB based on my assessment of condition was $44K-$45K. The car is listed right now at Jeep dealer for $49.9K. All part of the game, I get it.
Private sale? Sure....then I have to cough up $2700 in sales tax. That means I'd need to sell the car private party and deal with FB marketplace, Craigs, tire-kickers galore, dreamers, and Corvette enthusiasts tasting the calipers to check flavor.....etc. (I was a camaro guy and the enthusiast community was friendly, as this one seems to be. I deleted my bookmark to the Vette forum about a month into it. What a snooty crowd - and I'm sure theres Vette folks here, I'm sorry, but it's true. You can't ask a question about an issue with a Vette online without several know it alls telling you that God himself built that car and you are imagining things)
The dealer that offered me FWP minus 3% actually described it as Cost minus Holdback. If it rolls off the truck and you take it - they keep that 3% holdback intended to cover their costs of keeping the vehicle, marketing, etc.
There's no reason in the world someone ordering a Jeep right now should pay anything over FWP minus 3%.