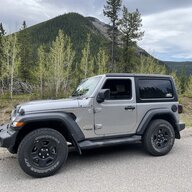 First Name

Larry
Joined

Feb 18, 2021
Messages
Reaction score

598
Location
Vehicle(s)

2018 JL Sport 2 dr
Stellantis is focusing on keeping the Wrangler line running. They closed some other plants to keep Toledo open so Wrangler production is not interrupted. As much as possible anyway.

They announced a week or two of routine shut down to retool. A Jeep rep at the Chicago Auto Show announced they are starting production of the Xtreme Recon package in Aug so maybe that has something to do with it? Or even possibly 2022 changes?

https://www.jlwranglerforums.com/fo...dering-production-start-dates-released.76458/

A friend of a friend owns a design/manufacturing company that makes many electrical components for the car world. He mentioned obtaining chips/microprocessors and believe it or not Nylon has been a tremendous problem. He confirms the problem will last for awhile, undoubtedly into next year.

Apple seems to be getting priority.

https://www.gizchina.com/2021/06/23/tsmc-will-deliver-automotive-chips-earlier-than-scheduled/
One of the reasons for Apple's stock price dropping after a strong quarter was their warning of the availability of chips. Indeed, they do get priority, but it goes to show you how extensive the issue is.
We sell board components to customers of all sizes. From what we have heard, there are many delays in all areas, but it seems especially bad in some components that are older technology. Simply, there is no money in building a new plant for an older technology product, so when there was the combination of production shutdowns and a spike in demand, the owners of the companies started delaying orders. Technology is basically like fish … the big fish eats the little fish and so forth. When a small component gets delayed, it delays the bigger component, which delays a part, which delays a car …
Makes sense that Stellantis would give a high margin product like the Wranger priority, but even Ford has delayed the F-150 … I would add a few weeks/months, if you are waiting for a new Wrangler from the factory.