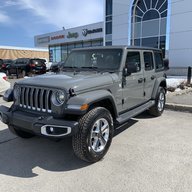 First Name

Michael
Joined

Jan 12, 2018
Messages
Reaction score

1,828
Location
Vehicle(s)

2019 Sting Gray JLUS V6
After work today, I went to the dealer I ordered my JLUS from, to test drive one of the JLs they have received (they have one Sport S and 2 Sahara). He walked me to one of the Graphite Sahara, handed me the keys then told me to enjoy before going back in the dealership
The JL had 10 miles on !
And WOW !
It's the first time I drove a Wrangler, so I can't compare to any previous experience, but I was definitely impressed with the quality and looks of the JL overall.(Couple years ago, my wife looked at getting a wrangler, and I talked her out of it mostly cause it was « empty », the interior was boring and dated and was years behind the other cars... especially for the price)
It drives nicely, the wind noise was actually pretty surprising low IMO, though driving at highway speed (around 70mph) the steering felt a bit less precise...
The LED lights are SO worth it ! They look amazing, and are so bright, definitely worth the upgrade !
As for the infotainment package does ! I was kinda worried that the 8.4 UConnect would seem huge and kind of an out of place iPad, but it's the perfect size, and it's really quick and fluid to use. The Alpine soud system is awesome, glad I ordered that too !
The auto was quite smooth, and didn't notice the stop/start until I parked it back at the dealership when seeing the button lol
Loved the heated steering wheel, first time I ever used one, and that's a nice feature (especially for our crazy Canadian winters
)
I also sat in the back, and even though I felt the door was kinda tight, there's plenty of space back there for adults (I'm 5'9).
And I was also very impressed by the standard Sahara wheels, they look great in person, while I found them very boring/below average in pictures.
Overall very impressed, the ride, the looks and overall quality makes it a totally different vehicle from the JK I think...
I told my dealer I was definitely NOT cancelling my order... If that Sahara was a manual, I probably would've driven it home tonight ! Lol