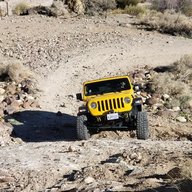 First Name

Jim
Joined

Mar 29, 2019
Messages
Reaction score

14,259
Location
Vehicle(s)

'19 JLU
What they are catching may not all be evaporation, either. There could be fuel or other things in there, too. I'd love to analyze some of it and see what exactly is in it.

One particularly interesting thing you brought up with the 3.6 and its tendency to burn oil at extreme angles, such as climbing a steep hill. (Hasn't happened to me but I've witnessed it). Those with catch cans don't experience this.

I would guess, as well, that it is evaporated oil. It would be fun to do an experiment with a catch can and see if a low Noack oil like M1 EP or Ravenol produces less fluid in the catch can than a higher Noack oil, such as most Group III 0w20's, which are typically just under the threshold allowed by Dexos 1 Gen 2, which is 13 or so percent. Run them both for say, 2000 miles, or however long the higher Noack oil has to run to put a measurable amount into the catch can.

Maybe Project Farm would do that, but I don't know if he has a Jeep! Lol!

I'd still bet that fuel makes up a pretty decent percentage of what is caught in there. But that's just a guess.
If you have the means i can send you a sample no problems, id even make it fresh. Or maybe I could send some in for an oil analysis.