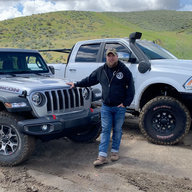 First Name

Mike
Joined

May 13, 2019
Messages
Reaction score

330
Location
Vehicle(s)

2018 Jeep JLU 2.0TE
Vehicle Showcase
Excuse the newb question here. I've been searching, and what I observe is a lot of off the shelf slap on shocks with generic one size fits all tunes.
I have a 2015 Power Wagon that I have King 2.5 shocks that have been custom valved to the things that annoy the living crap out of me on the trail. Imagine if Top of the World, which is just a terrible, annoying trail was enjoyable. Well, that's how my Kings are set up. The rebound is dialed in perfectly.
Anyways, looking at various lifts & suspension setups and I see a plethora of shock packages. Even some that are adjustable, like from Teraflex with the Falcon shocks.
But what I haven't seen or maybe just don't know because I'm so brand spanking new to this arena is what brands do custom valving to match their coils and will work with you to dial in your ride for your setup?
Anyways, perhaps I've been spoiled by having a setup that's dialed into the weight I carry and the things that annoy me on the trail.
And I want my Jeep build here to have a similar theme.
Am I being stupid? Advice? Opinions? Should I GTFO?