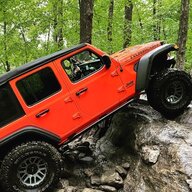 First Name

Scott
Joined

Jun 12, 2018
Messages
Reaction score

1,005
Location
Vehicle(s)

2019 JLUR in Punk'n Orange
Build Thread
Occupation

Turn Wrenches/ Write code
Wow! Love my 3.6/manual, but just curious, what's the price to do that swap with a 6.4?
Jared Petiprin from America's Most Wanted 4x4 revealed on Ep136 of the Truck Show podcast they just did their first 6.4 Hemi in a JL/JT with the manual. I wouldn't say it's a prototype, but at the time of the episod they were still wrapping it up and going through everything before turning it back over to the customer. According to him, at their shop, average time for a 6.4 conversion is 30 days, this one took 60. I believe he said once they get everything organized, they'll have more details. It was a great interview. It was toward the end of the interview.
Listen here
. They didn't give out a ton of details, but did mention that they used a GE-238 (?) 6 speed they used in the JK's, which has a different shift pattern. They bought a bunch of the last run of them, I guess.
I have a weird question. Let's say my diesel starts acting crazy after the 100k powertrain. Can this V8 be swapped in still?
With a welder and enough ambition, anything can be swapped into anything.
Seriously though, I'm guessing it would be no small task; you'd have to change everything I believe- the actual engine, ECM, Fuel tank/ pump, lines, etc, and that's if the sensors don't all go haywire- which may or may not happen. It may actually cost more than doing the V8 Swap in gasser Jeeps. I have no experience with this, other than the cursory research I've done looking into V8 swaps for my own 3.6L/ Manual trans.