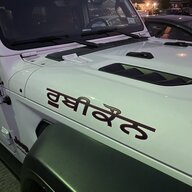 Joined

Nov 17, 2020
Messages
Reaction score

568
Location
Vehicle(s)

2020 Unlimited Rubicon with 8 speed and 3.6L Pentastar without eTorque
Hello all. Seems like by April or May or June of this year, COVID 19 should be largely behind us. Here is to hoping that we make up for a relatively boring Summer of 2020 with a very exciting 2021. Thought I'd share my wish list below to get my JLUR ready for the Summer of 2021. I know it's early but I will be beginning early to make sure the bank balance doesn't suddenly become low in April. My JLUR is largely factory stock as I rarely go off road. Bought a Jeep as more of a Summer Top off/Doors Off experience. Bought a Rubicon mainly for the looks.
Feel free to publish your list also in thread. Mine is as follows:
1. Hoping Mopar releases the Half Doors from the Dual Door group sometime in Q1 or Q2 of 2021 for the general market rather than an option for brand new JLs only via a dealer. Want those the most. Estimating Mopar may charge around $5k for those doors with premium uppers. I want these the most because the fabric windows plus the fact that the half doors seem to be lockeable means that I will be able to keep them on between April and September plus keep my Jeep parked on the street or my drive way with a peace of mind. They come mounted with Mirrors is another reason for me.
Is there a good alternate source besides FCA that has something similar? I am a big believer in buy once cry once.
2. Mopar Doorless Mirrors (part number 82215331AB). Approximately $300 before taxes and shipping.
3. JL tazer mini (just bought). Bought it mainly to keep the ESS off and the light show.
4. Door holding cart. Must have 360 caster wheels. Estimate $370 before taxes and shipping. Here is one example I am thinking:
https://topliftpros.com/products/st...E8KsfPM0N3uzl4qPfjnLY07l7dol1RqgaAhPJEALw_wcB
5. Already have from last summer: XRC Foot Pegs, front/rear grab handles from Mopar, a Hard Top storage cart from Quadratec and the Soft Top Window Storage bag from Mopar (got my JLUR with the dual top group).
All in all, it seems like I will be spending anywhere between $700 to $5700 before taxes depending on whether FCA releases the half doors I want via Mopar. I plan on completing the Doorless Mirror and the Door Cart purchase by Jan or Feb and then hope FCA releases the half doors by April or so.
Feel free to add your plans or wishlist for 2021 here!