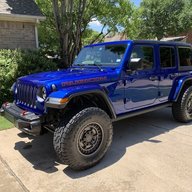 First Name

Jerry
Joined

Jan 18, 2019
Messages
Reaction score

532
Location
Vehicle(s)

2020 JLRU Ocean Blue
Hey guys. I tried to find these answers on the forum with no luck. So, here are some questions.

I called my local Jeep dealer to inquire about the price and part number for the oil filter on my 2020 JLRU with the 3.6 L V6. I was given the price... $16.02 but they REFUSED to give me the part number. WTF??? I went to Auto Zone and they said what I need is the Mopar Oil Filter # MO-349 for $8.99. I don't know if this is the correct one or not. Anyway, here are a few questions I have:

* Mopar Oil Filter for a 2020 (2018-2019) JL with the 3.6L V6: Part #?????????????????
Also, I am looking for the lb/ft torque settings for the common things we need access to...
* Wheel nuts
* Oil pan drain bolt
* Oil filter element cover
* Hard top bolts (8 of these)
* Door bolts
* I would like to check several of the suspension components to confirm the lb/ft torque settings as well.

I purchased a new torque wrench and I just want to check everything!!! Lol!

Also... yes I am aware of the "Jeep Wave" program where I get 4 oil changes and 4 tire rotations for the next 2 years. Sounds great, but you think I'm gonna waste my time and let these idiots touch my Jeep??? Besides, I called "Jeep Wave" and they stated that I can send in my receipts for my own oil changes and be reimbursed. Has anyone done this?

Thank you!