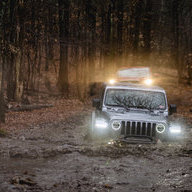 First Name

Peter
Joined

Aug 5, 2019
Messages
Reaction score

408
Location
Vehicle(s)

2020 JLUR
Please tell me this is a joke?? How the hell can a driver of a lifted brick on wheels complain about gas mileage!!! The Faulken AT/3 weighs almost 20 lbs more then the stock Ko2 which makes it more like 80lbs extra weight per corner in rotating mass.
Newest thing I found is the rear bottom of the front fenders must be hitting the tire at some point .... both sides are missing and I found one plastic rivit on my rock rail driver side. I didn't even take it off road so I can't wait to see what they say about this when I go to the dealer. Can't wait to tell you guys how they handle any of this. I do not expect the gearing ..... matter of fact I just would like a compromise in that situation. But the rear tire shaking violently on bumps is not acceptable at all along with rubbing tires on sway bar or the tire hitting the fenders at some point with only on road driving. Let's see how this plays out
You need to immediately trade in your Jeep for a Toyato Prius, I mean seriously!! 100 miles into ownership of my 61K Rubicon I was grinding my factory skids and lower control arm mounts on rocks while slipping through narrow class V1 roads pinstriping the shit out of the side of my Jeep. These aren't show cars, there Jeeps, they're meant to take a beating!! I'm not saying you don't have a gripe if there are "real" issues, but you're nitpicking and acting like a goddamn snowflake. Talking about tracking mileage and showing up weekly threatening to be an asshole over stupid nothing issues, your a nightmare!!! And by the way, bodies don't sway in turns and there's no way in hell your 315's are rubbing on your sway bar!! Just stop it already!!