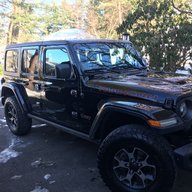 First Name

Mike
Joined

Dec 20, 2019
Messages
Reaction score

1
Location
Vehicle(s)

2018 Jeep Rubicon
For this Back-up light project on a 2021 JL, I decided against T-tapping into existing wire. Instead, I made a pigtail jumper (extension) to go between the left rear taillight assembly and the Jeep wiring harness. This way, I can remove this, put the original connectors back together, and it's in factory fresh condition.

That connection uses 12-pin MX-150 Molex connector. I am connecting my new LED backup lights to this pigtail using Anderson Powerpole connectors, but it's just as easy to use traditional butt connectors. Both are shown here.

When buying the supplies, I bought extra. And I've spent a lot of money on release tools and crimping tools for open barrel Molex connectors and release tools and crimpers for Anderson Powerpole connectors. And I've ruined a few connectors learning how to crimp them. Haha.

So if I can save others the expense and headaches of trying to do it themselves, and instead provide these to them, I can do that. (Notice the striped wiring I'm using to match the factory wire colors). Price would be about $30 plus shipping, I think. I'm not yet set on the price, but working it out.

Or I can point you to the components, tools and wire, and you can build it yourself. I have about $250 invested, $100 of that is for the Anderson Powerpole kit that I'll be using for radio installations.

I would welcome your thoughts and comments.

The open-barrel crimp has to be perfect, or it won't slide into the Molex connector.
I would be interested in your connector if you are producing it - let me know how much. Thanks,