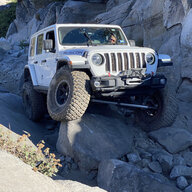 First Name

Bryan
Joined

Oct 21, 2019
Messages
Reaction score

282
Location
Vehicle(s)

2020 Jeep Wrangler Unlimited Rubicon 3.0 Diesel
Build Thread
I used to work on Aircraft in the U.S.A.F., and the training and time I spent on records keeping has carried over into some of my other hobbies. I used to keep a note book in my car with all my fill-ups and mileages, and servicing intervals with mileages and dates. I understand that the EcoDiesel's maintenance costs are going to be higher than the gas engines, and I really don't mind as I'm buying the Diesel for the range, longevity (hopefully), and most importantly, the torque! Either way, its something that I'll track.
I've been using the free version of
Fuelly
for a few years now and I figured I'd share the results on my 2 vehicles that i currently drive every day.
My 93 YJ Sahara
http://www.fuelly.com/car/jeep/wrangler/1993/motorist/952433
My 2018 GMC Yukon Denali
http://www.fuelly.com/car/gmc/yukon/2018/motorist/847000
It'd be awesome to have lots of EcoDiesel Wranglers on the app from the very beginning as we could start developing a nice sized database for fuel and maintenance costs, and comparing results. I have mine loaded up already, even though it I haven't taken delivery of it yet.
Sharing this for those interested.