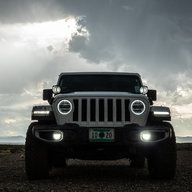 First Name

Travis
Joined

Dec 20, 2018
Threads
Messages
Reaction score

168
Location
Website
Vehicle(s)

2018 JLU Sahara
Hi everyone,

Well, I've been home from this trip for about a month already... including a 14-day total quarantine in my home following the trip. But, just now getting around to organizing the photos. Earlier this spring I was already well into my trip when the coronavirus madness really started to ramp up. I finished out my trip which was a total of 3 weeks long and i arrived home just before all of the stay-at-home orders started getting issued for the various states.

I live in northeast Minnesota, and this was my 3rd road trip to the southwest with my 2018 JLU, which I purchased in November 2018. After this most recent trip my odometer now sits at about 47,000 miles. On this trip I did about 6,000 miles. My goal when I travel is to visit some of the most remote locations I can find. I definitely accomplished that on this trip. Big Bend National Park was experiencing record visitation when I arrived, but it's easy to get away from the crowds as the majority of park visitors stay in the more developed areas. I spent almost all of my time exploring the backcountry road routes in the park and over the course of 3 to 4 days I saw less than a dozen other vehicles.

I spent two nights camping on the River Road, one night camping on Old Ore Road and one night I stayed mobile and explored the paved roads looking for places to take night sky photographs. I'm a part-time photographer and specialize in night sky images, so my trips are often planned with night photography in mind. When I camp I don't bother with a tent, I just sleep in the back of the Jeep with the rear seat folded down. Its plenty comfortable for one person and associated gear.

Big Bend was AWESOME, and I can't wait to go back someday. This park is HUGE and has so much to see and explore. During my visit the park was getting rainfall every day, in some cases heavy rain. This turned some sections of the backcountry roads into a muddy mess. But, I never ran into anything that was impassable. One of the photos in my first post here shows the worst section of road that i came across. It was a very muddy section that was maybe 1/4 mile long. Most of the roads were pretty rocky and dried out quickly.

This first batch of photos is just from Big Bend, I'll post some other batches too from other portions of the trip. Enjoy!