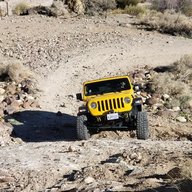 First Name

Jim
Joined

Mar 29, 2019
Messages
Reaction score

6,192
Location
Vehicle(s)

'19 JLU
The first strong cold front made it to SW Florida yesterday. The warmest temp was at about ten AM; 56F, with a 15mph wind out of the NW. So...I removed my freedom panels and rolled down the two front windows for the 25 minute drive home on country roads.

It made me happy. I was grinnin' like a mule eatin' briars! T-shirt, shorts, flip-flops, Jeep ball cap. I froze my freaking ass off, as my driver window was facing north at 55MPH. Deaf in my left ear for a bit after, but smiling ear to ear.

When I got home, my wife asked what was wrong with me, because my face was red, and I temporarily had a frozen death-head grin. All I could manage through my numb frozen smiling grimace was "Took top off. Glorious!" Then I jumped in a hot shower to thaw out.
Jeff, the Army called, they said you are crazy enough to come back.