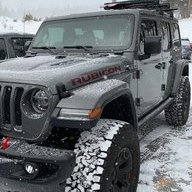 Joined

Jan 17, 2018
Messages
Reaction score

689
Location
Vehicle(s)

2018 Sting Gray JLUR
Been following the forums closely for the last year and a half awaiting the diesel JL to be released, but finally decided to just pull the trigger on a Sting Gray fully loaded 2.0L Turbo in August and couldn't be happier with it! Sold my 2012 White JKU after picking up the JL. First round of mods is pretty much done...
Farewell to the JK:
JL Getting Upgraded at the Dealer and Delivery Day:
JL After Round 1 of Mods:

Exterior:
-
Paint protection film:
Got the Xpel film put on immediately after brining the JL home, did the full hood, front grille, all lights, and all 4 full fenders. Overall the JL seemed easier than the JK to wrap and resulted in much less seams especially on the fenders. On the hood I removed the Rubicon decals and put them back on over the film to avoid the little bubble around the decals I had on my JK when I went over them, makes the film virtually invisible and highly recommend it this way!
-
Ceramic coat:
Also applied the Gyeon ceramic coating over the entire vehicle including where the PPF was, crazy how well this stuff works, makes the Jeep look so clean even after a few weeks, bugs etc. are so much easier to remove after road trips, totally worth it.
-
Tint:
tinted the front windows to match the rears
- Swapped out the antenna for a black one, not a huge fan of the shorter ones so stuck with the original size but blacked out
- Painted the muffler black
-
Mopar 2" Lift:
had this dealer installed before picking up the JL, a little bit surprised at how high it ended up being, way higher than my JK and much more than a 2" lift!
-
Mopar Rock Rail Sliders:
had these dealer installed also, I had the ACE rock rails on my JK and wasn't a huge fan of how they looked when doubled up over the stock rubi rock rails, went with these mopar rails as they still offer protection and offer enough of a step to make it easy to get in./out and have a sleeker profile than the ACE rails
-
Wheels/Tires:
Went with the Quadratec hard rock style wheels, loved these on my JK but wanted a blacked out look and the wide wheel, and went with the 35" BFG K02s, very happy so far with these, getting 20-21 MPG mixed city/hwy with these and the lift, missed the little red Willy's Jeep from the factory wheels so added some decals
-
Spare tire reinforcement:
Added the mopar kit as well, like the look and at least the peace of mind, not sure it does much
Last edited: