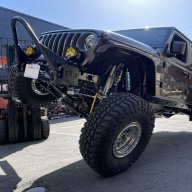 First Name

Ross
Joined

Aug 20, 2020
Messages
Reaction score

428
Location
Vehicle(s)

2021 JL Unlimited Rubicon Diesel
Occupation

Bad Mother Fucker
The torque of the ecodiesel already has me interested in trading my 2.0.
27 mpg in a JLUR is fantastic. That's almost 500 miles range.
I don't think 500 is realistic - when the regen kicks in and the exhaust fuel injector starts spraying your mpg drops by a few. The best I've done on a tank is about 400 which is still pretty good.
But my motor is still breaking in (about 1,600 on it at the time of 27.3MPG) I hear these eco diesel will pick up another 2-3 mpg highway after they are fully broken in. (8-10k)
When I got 27.3 it was driving from Palm Springs to Redondo Beach basically so it was a very flat drive with elevation close to sea level. If you start going up grades it will go down also.
That being said I literally can't get this thing to get less than a 22.3 MPG average even around town no highway, and I have a heavy foot. So it's definitely super good for a JLU
I went with the diesel really though because I want to still be getting over 20MPG with the 40" tires.
Jeep going to shop this weekend to get its makeover so next year I should be able to tell you what kind of mileage I can get with the 40's in a similar scenario.
I bet if I was actually driving 65 I would've achieved 30+ MPG in that drive from Palm Springs to the coast. It was just a really long drive so I was hauling ass though.
Last edited: