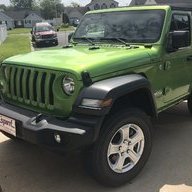 First Name

Mark
Joined

Jul 5, 2019
Messages
Reaction score

20
Location
Vehicle(s)

2019 Jeep Wrangler Sport S, 1999 F250 Diesel, 2007 Mustang GT, 2015 Escape
Just before the quarantine went into full force, I had my first free Jeep Wave service performed at my local dealership, Spirit CDJR in Swedesboro, NJ. This is a small town dealership that isn't even big enough to have a showroom with vehicles. I know there are a lot of Wrangler owners in this group who would rather die than have someone else work on their Jeep. I am mostly the same way because (1) I don't trust anyone to do the job right and (2) I am a notorious cheapskate and I can always do it cheaper myself than paying someone else to do it.
However, since free is cheaper than me doing it, I thought I would bring my Wrangler Sport S V6 manual to the dealer for its first service at 6 months and 3500 miles. See (2) above about me being a cheapskate. After the service, I checked the invoice (attached) and confirmed that they used FIVE quarts of oil. I also confirmed this by looking at the dipstick. They also used (per the invoice) the correct Mopar 0w20 oil, which according to the Mopar Chemical Catalog I found online (
https://www.dealers-mopar.com/resources/pdf/chemical/chemical-catalog.pdf
) is described as a "Platinum Synthetic" oil, which I believe is made by Pennzoil.
They also rotated the tires as part of this service. This was done correctly except for a couple of lug nuts that were not torqued correctly; they were pretty close, just needed a little more grunt per my torque wrench.
Finally, the steering damper recall had been done before I took delivery at a different dealership; my dealer, Spirit, got the Jeep from the other dealer because they did not have a manual transmission 2 door in stock. When I checked the damper, I found that it had been installed upside down (surprise!). When I told them about it, they installed a new damper (correctly), no questions asked,
So, a pretty positive experience with this dealer. I will being my Jeep for the remaining free services and hope that they continue to do a good job.