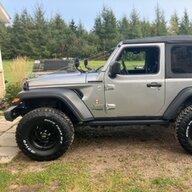 First Name

Gary
Joined

Oct 19, 2019
Messages
Reaction score

1,309
Location
Vehicle(s)

2019 Jeep Wrangler Sport
Occupation

RN/ Firefighter
Vehicle Showcase
The Miss'and I decided we were going to take an overnighter to a little spot we had found
.... just of the main path, next to a brook..... so we loaded up the jeep and took off!
5 minutes out, we found out there was a fire ban
....
So we called our girls, asked them if they wanted to go for a drive and we were turned down....

So we said "Nuts to that... let's go ourselves!" So we changed our plans and headed to Martin Head...I hadn't been there in 25 years and the Miss' had never been.
So we drove following the GPS and wound up NOT there.

But, we did find a couple of nice spots for future camping

...
The first spot was pretty... but no water near it...
So we drove down this dirt road, met some lady that had a camp there and she directed us towards our destination...
We found a nice little spot and because we had been driving for hours and didn't want to waste the day... we decided to set up camp for the night....
Next morning, we packed up and headed towards Martin Head...2 hours later, we arrived.
Had to drive in first gear the whole way... road was rocky and steep in some places. Some spots on the return, first gear in low to get up the rocky hills....
lots of obstacles....
found an old car....
finally.... almost there!
MOOSE!!!!
It was beautiful but the temperature dropped drastically...lol
on the way home... stopped to take pictures of this uprooted tree....
We again followed the GPS and it brought us to a covered bridge...... which was too small for the jeep to fit through.

We backtracked and finally found our way home... drove through Fundy provincial park and followed the coast back home...
It was a great trip.... already planning next weekend's camping trip.....
The jeep's all washed and ready to go!