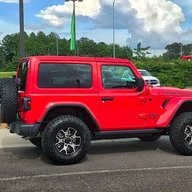 First Name

David
Joined

May 27, 2019
Messages
Reaction score

333
Location
Vehicle(s)

2019 2 door Jeep Rubicon
The goal was clean power and clear sound.
Alpine R-A60F
Alpine R-S65c.2 for the sound bar
Alpine R-S65c.2 for the lower dash speakers
SSV Works JJT-SA065 for the sound bar
Mettra JP-1014 speaker pods for the lower dash
All new speaker wire
PAC Amp Pro AP4-CH41 (R.2) amplifier interface
I ordered a set of Hertz dash speakers but did not use them.
I removed the dash speakers all together
Total install took just over 60 hours. I took my time and had no reason to rush. Power cables are on the drivers side. Speaker wire is on the passenger side. I have a proximity key, so I did change a few things as it relates to the PAC Pro. The proximity key keeps the data bus active and the blue wire to turn on the amp was keeping the amp powered up. I did a fuse tap to fuse F58 (heated Seat) to the fuse box. This triggers the amp only when I turn the Jeep on. The Pac Pro module is up behind the glove box and zip tied to make sure it is not in contact with the heater core. The heater core gets very hot and I wanted to make sure the module was as far away from the heater core as possible. Dip switch 2 is on to lower the pre out to 4V.
Crossover Mode on the new amp is set to "HP" . (The new amp is only driving mid range and tweeters)
The original factory amp is driving the factory subwoofer only.
The sound is clean / crisp and no engine noise. It was fun project and the sound is amazing.
https://www.alpine-usa.com/promo/speakers-amps-subs-rebate
Last edited: