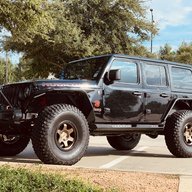 First Name

Robert
Joined

Jan 8, 2018
Messages
Reaction score

307
Location
Vehicle(s)

2018 Jeep Wrangler Unlimited Rubicon
Occupation

Finance
Vehicle Showcase
Hi all,
There's bound to be a hungry market for these new rubber juggernauts, so I figured I would share my experiences thus far to better prepare those looking to make the upgrade.
I was fortunate enough to have won a set of 4 KM3s courtesy of Discount Tire in Decatur, Texas last July. Yes, last July. I opted for the 39" tires because duh. The tires have been on order for so long because they took a while to release them. They're also on backorder our the ass, so you'll have to wait a while to get them. I was told that I'm one of the lucky few to be running around with these installed right now.
If you head out to Discount Tire in Decatur, talk to Chris Olson our there if you want to be treated well. He was working with me via Facebook Messenger keeping me updated the entire time. Also ask him if he has any specials on wheels, because he may have some sitting in the back. I was able to snag 5 17x9 Rotiform SIX's for a ridiculously good deal, less than half what the going rate is online.
Anyway, I had Chris and his team install the tires this past Saturday.
Results:
- Ride is much smoother, believe it or not. I switched from 5 37" BFGoodrich KO2's, which were great. However, I've always heard that the JL is truly optimal with 38" tires. After my experiences, I believe it's true. The KM3's true diameter is 38.5"
- With a Rock Krawler 3.5" lift installed, I have 12" of ground space from the bottom of the pumpkins on both axles.
- I have LoD Destroyer rock rails installed, and it's literally 24" from ground to the foot step. I feel like a badass climbing in and out of my Jeep, as per usual. I had to bring a step stool to my dinner at Bob's Steakhouse so my tiny little Asian mother could climb in and out of my ride.
- THERE IS SOME RUBBING on the lower control arms AND the rear inner fenders. I had to uninstall the rear liners so that it was no longer an issue in the rear. I also installed some 1.75" Spidertrax wheel spacers on all four wheels, which took about two hours, in order to FIX the rubbing on the lower control arms. I'm happy to report that the rubbing is gone.
- RIDE QUALITY is much better after having installed the spacers. Hell, it was great without the spacers, but the turning radius was absolute shit. The rubbing was also unsettling as well. With the spacers installed, it's smooth as silk. I'm quite impressed that things got better even after switching to bigger tires.
- ROAD NOISE is admittedly higher, but my Jeep's entire inner frame is coated in Dynamat, so that helps. The noise isn't unbearable. You'll just notice it initially and then you get used to it. I have a Borla Offroad exhaust that runs loud, so I'm used to road noise. If road noise is a concern, this is a Jeep, so stop being a bitch about it.
- OFFROAD - Nothing to report. Yet. I'll take it wheeling soon and let you know, but I have a feeling I'm going to be pleased with the results.
Anyway, figured I'd share to help you out. I'd you're on the fence, do it. But you'll have to get in line.
I'm sure you'll have questions, let me know below.
PICS (my build log is available HERE:
https://www.jlwranglerforums.com/fo...x9-rk-x-factor-3-5"-w-king-shocks.3054/page-7
)