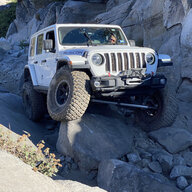 First Name

Bryan
Joined

Oct 21, 2019
Messages
Reaction score

282
Location
Vehicle(s)

2020 Jeep Wrangler Unlimited Rubicon 3.0 Diesel
Build Thread
I just got my first Exhaust Regen Message on the dash today. I want to share all the details on my experience so that others may compare. I'll list my driving style, mileages it popped up and how long it takes to complete, as well as any other information I feel useful in making comparisons to other Wrangler EcoDiesels. I think driving style may play an important role in the regen frequency.
Took this picture at a stoplight just after the message popped up.
Duration:
My first regen message popped up at 15,771 miles. It completed at 15,782 miles. It took 11 miles to completely regen @ approximately 60 mph . The regen started while I was driving from light to light on my way to work, but shortly after I got on the highway and didn't stop till after it was completed. It would have been nice if it started on the highway and ended on the highway without any stops, but oh well.
I apologize for taking this picture while driving. I was trying to be quick and get the "Exhaust Regeneration Complete" message, but I was too slow and I missed it.
Mileage:
While driving on the highway during the regen, I was showing 18-22 mpg on the current mpg meter on flat surfaces, and after the regen was over it jumped up to 26-28 mpg while on flat surfaces. 26-28 is normal for me @ 60mph on flat surfaces. Its not the most accurate, and seems to be optimistic most of the time, but its the best I have. My ave mpg for all miles driven is 20.7 currently. This includes everything from doing burnouts, to hauling ass on trips to Moab and Colorado, a little city driving but mostly highway.
Driving Style:
Its an every day driver. I take it to work maybe 5 days a week on average. I'm a shift worker, so I usually don't have to deal with traffic and stay at about 60-73 mph in the slow lane. I've been driving slower all summer to see what if I can find a sweet spot on mileage. I drive 33 miles each way to work, and about 5 miles of that have stoplights and are slower. On cross country trips or cross Texas trips I'll drive at 90 mph the whole way (this typically drops mpg to about 18 for me). I would like to go on wheeling trips a couple of times a year. So far I've only gone once, so we could put some 4lo action in there, but not much, maybe one tank of fuel's worth. I very rarely let it idle for long periods of time.
Mods:
Its a 2020 Wrangler JLU Rubicon EcoDiesel.
Stock my EcoDiesel weighed 5,060 lbs. Currently, in my every day driving configuration it weighs 5,400 lbs.
I'm driving on 38's with a 3.5inch lift in front and a 4.5 inch lift in rear. Stock 3.73 gears. The Tazer to adjust for tire size, and have compared the speed to GPS. I have adjustable control arms all uppers and lowers with adjustable trackbars front and rear. I carry my spare all the time and have the Mopar tailgate reinforcement, and the Teraflex spare mount. I have a truss and RCV's in the front axle as well as LCA skids fron and rear, but I don't think these add much weight or wind resistance. That's it. All stock steel bumpers and no winch and not even aftermarket rocksliders yet.
I don't know if the EcoDiesel will go into regen mode and not give a message, or if it gives a message every time it goes into regen mode. I would like to know every time, so the message is defiantly preferred.
Update: 10/30/2020 Post#27 I realized on my first oil change, the wrong oils was used. Rotella T6 instead of the required spec (MS-12991 API SN) and was used for 5627 miles when this active regen hit.
Last edited: