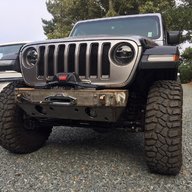 First Name

Ethan
Joined

Jul 14, 2018
Messages
Reaction score

89
Location
Vehicle(s)

2018 Jeep Wrangler Rubicon JLU
Occupation

Metal Fabricator & Stuff
So, I have been working on my JLUR for a few months now, took it up to the Rubicon Trail, Barrett Lake Trail, Sierra Buttes, and various other paths less traveled. So far, it's a been a blast! The JLU platform has been a big step up from my built JK Rubicon 2-dr.
About the build: Before I bought the beast, I decided that this time I would fabricate bumpers and frame-mounted rock sliders. I also had my eye on a MetalCloak Game Changer suspension system and Artec Bellypans. I bought my last Jeep, a 2013 JK Rubicon 2-dr 10th-Anniversary Edition, pretty much built. However, there were many things I didn't like about it, but it gave me a chance to get in the rocks and make some choices about the next Jeep. Particularly, I learned that I needed more wheelbase, but regardless, we had some great trips in that machine! Anyway, on to my JLUR build.
*MetalCloak Game-Changer 3.5" Rocksport Edition. RockSport because I will most likely go to Fox or King shocks. I don't plan on a coilover setup.
-I have installed the MC Game-Changer, RockSport Edition, minus the RockSports, as they are still on backorder. The rest of the system has performed very well.
*37x12.50R17 Cooper STT Pro's on my old JK Rubicon wheels.
*One-ton axles: I bought Dana Ultimate 60's for my JK, but never installed them! So, I'll strip the brackets off, re-gear to 4.88, truss, and reconfigure everything for the JLUR! This will be a fall project. For now, we gotta keep hitting the trails! We have a Slick Rock Trail trip at the end of August and then Dusy Ershim Trail trip planned for late September, so the 60's will have to wait.
Artec Bellypan System.
- I have installed the Artec Belly Pans. This system is beautiful and fits together like pieces of a puzzle. A very well-thought out design.
Bumpers:
- I completed the front bumper, but haven't painted it yet, because I am waiting to paint everything at once. It's a stubby and houses a Warn Zeon 10s, Factory Fogs, and Rigid cubes. It looks like this:
Do I leave the welds or grind them smooth before paint?
- I also made a rear bumper with a swing-out tire carrier, license plate relocate, RotopaX holders, Hi-Lift jack mount, and a third brake light situation. It's not done yet, but it's functional. I still have to knock the sharp outside corners off, add clevis mounts, and cut a 45˙ edge into the bottom corner. I'll post pictures when I do it. The bumper It works great as-is and looks like this right now:
Swing-out locks down via the toggle clamp to prevent rattling, but is actuated by the tailgate. Not a new concept, but one that I liked. I may change this, but wanted to give it a chance. So far, it's worked great. I will also French-in the license plate frame and trailer plug as well as create a bolt-on hitch receiver when I tackle the rear bumper details. Winter project...
*Rock Sliders: After having owned a JK with body-mounted sliders, I decided I would never have that again. The sheet metal on a JK & JL is just too thin if you plan to play in the rocks with body-mounted stuff. I learned that the hard way. So, I made some frame-mounted sliders for my JL. They are fabricated from 1-3/4"x.120" DOM tubing, various flat bar, and fabricated sections. They are bolted to flanges that are then welded to the frame. I mounted them this way so that I could easily repair them or the JL if I need to. I also came up with a unique design that provides the same clearance as the OEM Rubicon sliders. I designed this after running Barrett Lake Trail. Because we used every inch of clearance to get through some of the obstacles, I couldn't see giving anything up. They look like this:
It's starting to resemble a rock-capable JLUR!
I have yet to finish all the welding. I'll weld the bottom two seams and the inside two seams before I paint.
Here, you can see the twin bottom tubes that are bridged with a piece of 3/8"x2" Cold Rolled Steel flat bar. The holes are there to shed water and mud. They also lightened the flat bar by about 5lbs. The reason for this configuration is so the pinch seam is allowed to hang down into this area. Therefore, I can raise the tubes higher and gain ground clearance.
Weld porn.
More weld porn.
That's it for now. I'll continue to post changes and additions here as the project progresses. My girlfriend, who is a photographer, shot a bunch of video of the the various projects, so we'll have some videos of the project to share. Stay tuned.
Thanks for reading.
First JLUR on the Barrett Lake Trail. We were the first ones through the gate this season!