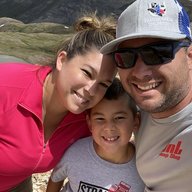 Well-Known Member
Rock Sponsor (Level 1)
First Name

Brett
Joined

Sep 14, 2018
Messages
Reaction score

2,861
Location
Vehicle(s)

2019 JLUR-8 speed 2020 F-350
At EJS, our muffler took some damage. Happened to run into Matt
@DynoMax Exhaust
and the vendor show and lucked out being able to get a dynomax muffler delete from him. As soon as we got home I put the Jeep on the lift to survey damage and install this delete pipe.
Only tools needed are a 15mm socket, wd-40 or similar penetrating oil, pry bar and rubber mallet. May not need all those but makes things easier.
Soak the rubber hangers in lube. While it's soaking in break loose the clamp and make sure it's loose. Also spray some lube at the clamp to help it slide off.
I used a 24' pry bar on the drivers side to slide the rubber hanger off the frame mounted side. On the passenger side, you'll need to push it off on the muffler side as the frame mounted hits the rear cargo tub. For that one I just pushed it off.
Once it's free from the hangers, just take your time and work the muffler pipe off the exhaust. Takes a little wiggling but working it back and forth and some gentle motivation from a rubber mallet makes short work of it.
Once its off, get the new delete pipe and place the clamp loosely over the pipe. Slide it into place, grab the rubber hanger from the drivers side of the muffler and install it on the delete pipe. Once it's all lined up, tighten the clamp.
Brett