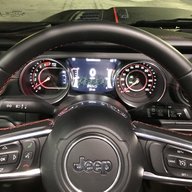 First Name

Mamba
Joined

Jul 5, 2020
Messages
Reaction score

98
Location
Vehicle(s)

2020 Rubicon Recon
Hey Everyone, wanted to take a moment to add to the positive sentiment that helped me during the lift kit selection process. I have a '20 Rubicon Recon with the e-torque 2.0 turbo.
I'll start by saying my rig is my daily driver (80/20) in the LA area, so ride quality and a semblance of road manners were important in my decision. I prefer trails to crawling, another factor in my decision tree. I also appreciate the look of a neatly fit (not packed) wheel-well. After spending far too many hours than I care to acknowledge examining rig setup aesthetics, I determined that a true 2" lift on top of the factory rubi height with 37's was my preferred stance. If you spend enough time reading about Dynatrac, it's clear this kit was built with an intentional purpose, and I am the type of Jeep owner that fits squarely in the cohort of Jeep drivers that this kit was designed to please. If you're a human by weekday and rock crawler by weekend, this review isn't necessarily intended for you, as the clearance and spring rate have obvious limitations for crawling and fully loaded overland jaunts. I've only had the kit on for a few days and haven't loaded the rig, so I can't vouch for any sagging or issues there yet. So far, so good.
As far as ride quality, the improvement was noticeable immediately. The steering felt a bit tighter, but not overly so. Think bimmer vs. benz, but not quite as dramatic. I liked it. As I proceeded out of the drive, I instantly felt less brake dive, and when I turned out, I could tell the body roll was cut down by at least 50%. These were exactly the ride quality enhancements I was hoping for, and the kit delivered. After a few more days behind the wheel, the improvement is certainly solidified. Freeway driving is more stabilized and she's a hair more fun to throw into the turns. All in all, I am very happy with my decision. I had the kit installed at 4WP and they were great, and going through them netted a 3 year no questions asked warranty for added piece of mind.
If you're on the fence and it sounds like we are similar rig/driver combos, you won't be disappointed.
Jeff