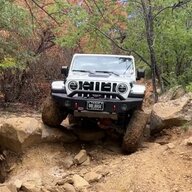 First Name

Brad
Joined

Jul 18, 2020
Messages
Reaction score

903
Location
Vehicle(s)

2020 JLU Rubicon Recon, 2021 JLU Rubicon
A month or so ago I watched the movie Nomadland. I believe it is fiction, but inspired by true events. The main character is a woman whose husband died and she began living out of a van, moving from location to location, job to job.
In one scene she is sitting around a fire with a group of fellow nomads. They are talking about why they chose this particular lifestyle and another woman shared a story about her friend. I'm going by memory here so forgive me but it's essentially this:
Another lady telling her story had a friend she worked with for many years. Her friend had been saving and preparing for his retirement adventure for years. He had a yacht that he'd been working on, money stashed away, and weeks before he retired and was intending to begin his adventure he was diagnosed with terminal cancer.
His insurance didn't cover all of the expenses, his company didn't do right by him, and his advice to his friend shortly before he died was "don't die with your yacht in the driveway."
Granted, this wasn't a "true" story, but I think we have all heard stories similar in nature. That message really resonated with me because I'm about 12 years from retirement if I'm lucky. I'm incredibly busy at work and sometimes taking time off to see the world seems impossible. Should I do it, should I wait? I don't want to be in a position later regretting that I hadn't done something.
In
@wibornz
thread about coffe at their place, another member described perfectly "the cost" of working a little longer to increase your retirement pay. The day I read that was when I decided to do my best to retire as soon as I'm able.
In a similar vein, Brian and Brittany with Lite Bright met with a family whose husband retired in 2018, and now three short years later the husband is wheelchair bound due to ALS. They've got a yellow Rubicon in the driveway that sadly probably only serves to remind them of the fun they used to have.
Think what you will of Lite Bright but I think this video has a very powerful message. In summary "Carpe Diem" or "seize the day."