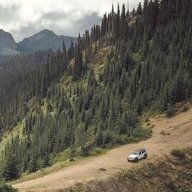 First Name

Jeff
Joined

Oct 12, 2018
Messages
Reaction score

272
Location
Vehicle(s)

2018 JLU Sport
Occupation

Emergency Comms, Music
Vehicle Showcase
Cat person all my life, then I met my wife who is deathly allergic. I'm allergic to most dog breeds, but found I didn't react to Samoyeds. Unfortunately they're pretty trendy around here, never thought we would find any rescues. We were wrong.
Gunner, the first, found dumped at the local pound, overweight and anxious with a bite history... was someone's cute Christmas present then grew up and needed way more attention than the family could give... great boy.
Then came Sita... stolen from her original family as a pup in China, sold to a dogmeat breeder. Forced to breed in a small cage for God knows how many years... "rescued" by an operation that wasn't really on the up and up and was actually destroying most of their rescues, then rescued again and brought to the US. Signed on to foster her, that lasted less than a day. No idea how old she is or what she's been through, but amazingly she's a total sweetheart.
Then the most recent addition, Killy... bit of a runt, but with reason : his mother was another meat trade breeder whose puppy mill caught fire. She was left locked in her kennel. Once the fire was put out, mama was taken straight to the butcher, but was picked up by an undercover "dogmeat buyer" who realized she was not only alive, but also pregnant, though severely malnourished and underweight. Mama was rehabilitated, gave birth to a relatively healthy litter, now they all live in the US and mama lives on a huge farm int he UK....
Last edited: