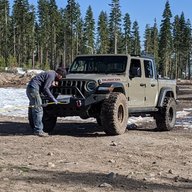 Joined

Mar 18, 2020
Messages
Reaction score

57
Location
Vehicle(s)

2020 JTR
Ok, finished up my install today. This CA coronavirus isolation order came in handy, but it can be over now!
This took way more time and effort than anticipated. I think I re-shimmed the rear end around 8 times and the front around 3 times. I spent the better part of 4 days doing this, though the frustration of re-shimming a jillion times definitely ended some of those days early.
Notes:
Installing a new pinion crush sleeve doesn't require that the pinion seal and nose bearing be removed.
This is a pretty good guide for reading gear paint patterns: http://departments.weber.edu/automotive/YouTube/Weber_Ring_Gear_Contact_Pattern_Interpretation.pdf

A slide hammer works better than a punch and hammer for removing the pinion tail bearing. It also works well for removing the carrier from the housing, especially if you haven't installed all your ring gear bolts yet.
Don't remove the parking brake cables. I don't think it's necessary, and if you're unlucky as I was then one of the cables will drop out of the cabin lever and you'll spend some time disassembling your front console to access the underside of the parking brake lever.
Before you decide that your pinion depth is good, ensure you haven't left any axial play in the pinion. You don't need to have your crush sleeve crushed to spec, but you shouldn't be able to feel any play at all when pushing/pulling on the pinion.
Similarly, make sure that your backlash is in the ballpark before you decide your pinion depth is good. I found that backlash really changed my gear paint patterns and was heartbroken when I figured out that I'd need to keep shimming that damn pinion after I thought I had done it for the last time.
If, like me, you find yourself unsure how much shim to add/remove, use 0.010"/0.25mm increments. That seems to be a good number for moving the gear pattern around 20% of the way across the gear tooth.
Installing thin carrier shims is a pain. Try to use the thickest shims possible as opposed to stacking up multiple thin shims.
Don't trust the Dana etch numbers. The following is where I ended up for shims, which doesn't match at all what is expected from the etch numbers.
FRONT
Stock pinion etch: 0.56
4.88 pinion etch: 0.69
Stock pinion shim: 1.08mm
Theoretical new pinion shim (based on etch difference and stock shim): 0.95mm
Actual pinion shim for good paint pattern: 1.18mm
Carrier shims: no change from stock (backlash a bit tight, but acceptable)
REAR
Stock pinion etch: 0.55
4.88 pinion etch: 0.18
Stock pinion shim: 1.18mm
Theoretical new pinion shim: 1.55mm
Actual pinion shim for good paint pattern: 1.03mm
Carrier shims: +0.25mm farther from pinion