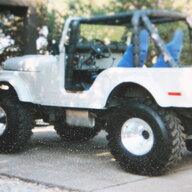 First Name

Brad
Joined

Oct 8, 2018
Messages
Reaction score

4,041
Location
Vehicle(s)

2019 Jeep JL Sport S, 03 Toyota 4Runner, Infiniti G37, Toyota T100 (Retired 74 CJ-5, 80 CJ-7)
Got a great deal on some large rolls of 1/2" closed cell foam and a roll of black 1/2" Volara so hopefully I'll have my whole hardtop insulated soon.
The factory and aftermarket liners are only a 1/2" thick (from what I've seen). I stacked 3 sections along w/ 3 foam strips for a max thickness of 2" and primary thickness of 1 1/2". I used 3M 77 Spray adhesive, this works well for closed cell foam. I used 3M VHB (Very High Bond) double sided tape to adhere the completed panels onto the Jeep Hardtop.
It takes a bit of trial and error to get the template just right since there are outward slants in the hardtop panels, luckily I had plenty of foam to allow for some misfits
I've built quite a few poker tables and have found that electric turkey knives work best for cutting foam straight and easy.
Using 3M 77 you spray
both
pieces of foam where you want them bonded, you wait about 45sec to a minute for the pieces to get tacky, then you press them together w/ firm pressure for about a minute, come back every few minutes and reapply pressure to get a firm bond.
Once you get the panels bonded together you then apply strips of the VHB tape on the raised middle sections of the freedom panels applying firm pressure along the tape as you roll it onto the top. You then remove the red tape protector and apply the foam panel, you then apply firm pressure for a few minutes in the taped areas. Tape bond will be fully cured in 48 hours so it's best to leave the panels upside down in your house for a couple days so you'll get the best adhesion.