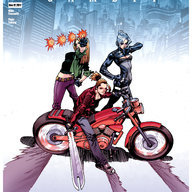 First Name

Mike
Joined

May 2, 2018
Messages
Reaction score

3,165
Location
Vehicle(s)

'07 A4 Quattro, '19 Ram Rebel
I just came back from a ride - around midnight tonight I decided to go to 7-11 to get something to drink. Most of you know that I am still reeling off from the joyous feeling of driving with the top off for the first time. It exuberating, wonderful feeling, with the winds blowing on my face and Luke Bryan was playing on the radio. The night was cool and I was happy.

And then suddenly I saw a dead skunk in the middle of the road. With trepidation I started to sniff (whyyyyyyyy??!!!!!) can't smell anything when suddenly.....

WHAM!!!!

OMG!!! I have never ever EVER smelled such a concentration of a skunk before. I have very sensitive nose and the smell was pummeling my face mercilessly. It was HORRIBLE and I was gagging wishing that it was over. But you know how skunk smell is. They linger for a distance. My ecstacy turned into a nightmare, and Luke Bryan was singing "She said play it again, play it again, play it again" and now that song is ruined! RUINED FOR ME!!! Tainted with the concentrated skunk stench.

Needless say I did not enjoyed my drink that much. If you think that it is bad enough to smell the skunk from an insulated air conditioned car, being out in the open and smelling the by product of a dead skunk is worst. I took a longer route home. With my radio off! That damn skunk ruined everything. Then I took a shower once I came back home.

Ugh! Next time I see a dead skunk with my top off, I am going to suck in as much air as possible, hold my breath and speed up!!! No fun!!

Are there ANYTHING else that I should be aware of with my Jeep top off??? Golly!!!
I just imagine skunk as weed, doesn't smell as bad afterwards