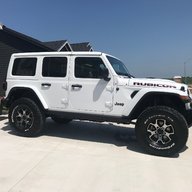 First Name

Mike
Joined

Jun 23, 2019
Messages
Reaction score

666
Location
Vehicle(s)

2019 Jeep Wrangler Unlimited Rubicon
Hey jeepers. I tried searching in multiple spots for this so I'm sorry if this is known info.

I'm looking to start doing my own oil changes and other maintenance. I haven't done for 20+ years because I didn't need to but for whatever reason at 38 years old, I really enjoying working on this jeep much more than any previous jeep or truck. Plus the oil change on this looks like it couldn't be easier.

My question is, what other maintenance is the dealer doing doing your oil change that I need to look at or do? Air filter and cabin filter, obviously. already changed both just because. There aren't any grease fittings that I am aware of, other than the ones on the steering that I installed. I have already rotated my owner tires twice. I can check tires and brakes and stuff like that. I can check fluids. But is there anything that actually needs done at the regular intervals?

Also, some people talk about dealer flashes or updates when they're in for service. Many unplug their Tazer JL's in case the dealer has to "update"..... is that a real thing? is there a way to know if you need an update? Are updates required or is there something else they get into the system for? I found a link somewhere on here to the chrysler page that you can put your vin into. It says my uconnect 8.4 system on my vehicle is current. What about things like updated flash for electronic power steering or something? I've heard people mention that being a thing. Is that all part of the uconnect? or are their other system flashes that I can have the dealer check and do?

I'm about ready to roll 15K miles. I was debating going back to the dealer in a couple weeks for my last wave oil change. However, I just installed my Tazer last week and I ordered an oil catch can I want to install. I was debating if I even need to bother going back to the dealer at all for any reason. I bought the oil change stuff and will do it myself unless there is something I should get done or updated.

Thanks!