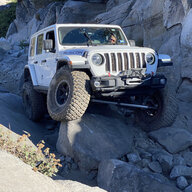 First Name

Bryan
Joined

Oct 21, 2019
Messages
Reaction score

284
Location
Vehicle(s)

2020 Jeep Wrangler Unlimited Rubicon 3.0 Diesel
Build Thread
Another dash buzzing thread. I actually tried looking this up in these forums and did a google search and didn't find anything about this noise. If i over looked it and it's already posted somewhere, Sorry...
This is a 2020 3.0 EcoDiesel Wrangler, though I don't know why this part of the dash would be any different than a Gas 3.6 or 2.0. I believe this is the Auto Climate Control sensor. This buzzing has been going on since I bought the Jeep new in March of 2020. I just haven't been at the dealership, at the same time it chooses to make the noise. I'll be taking it in for them to look at, but I wanted to share my experience.
So this buzzing is intermittent, it does it about 30% of the time I'm driving. It buzzes when hot, and when cold. It seems like it does it when the A/C is on and when it is off. I can be driving fast, or slow, or even parked. I do the typical Jeep thing and just turn up the radio some. Most of the time it's buzzing but I'm so used to it, that it doesn't capture my attention... just like a background noise. Sometimes it's louder, and sometimes is quiet. I can't hear very well so that may be part of why its been ignored for so long.
I pulled the cover off from under the steering wheel to take a closer look at it. It seems to have a little motor on it to draw air through the sensor. I'm assuming its a variable speed motor, or it has a bad bearing in it or something. I've had both junk/leaves fall into the A/C vents and blower motors go out on previous vehicles, and it sounds very similar. I believe this is part number 55111178AC Temperature Cabin Air Sensor
Here is a few pictures and a little video of it.
Last edited: