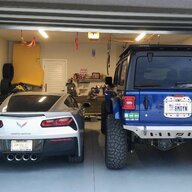 First Name

Mike
Joined

Feb 1, 2018
Messages
Reaction score

5,525
Location
Vehicle(s)

2018 JLUR "Fat Ninja", 2017 Corvette 2LT
Occupation

I make microchips for a living.
Vehicle Showcase
I put a Rough Country 2.5" budget lift on the Jeep the other day. It went well, the reality is the front is 2.5" and the rear is 2". This is to take the rake out of the front end, so all said and done I call it a 2" lift.

When doing the lift I loosened both ends of all 4 front control arms, as noted in the instructions and also from people who have done this before. After the entire lift was done and the Jeep was on the ground, then I re-tightened the control arm bolts. This is especially important on the JL's since they have "teeth" on the lower control arms and tightening them in the air will give "false lift".

Two questions:

1. Why don't they tell you to loosen the rear control arms as well (I didn't). Should I loosen them while the Jeep is on the ground now to see if they re-position and then re-tighten them or is that not necessary? I'm trying to understand why you should or don't need to do the same to the rear as the front.

2. This is a Sahara and I used the stock springs and shocks (obviously... it's a budget lift). I do however have a Rubicon suspension on hand (shocks, sway bar links, coils and lower control arms). I bought it from RubiTrux and they told me that when I put it on the Jeep to use the Rubi lower control arms with the Rubi spring and shocks. I haven't measured yet so I don't know if the lower control arms are longer but if they are (I'm guessing they are) should I go ahead and use them? I know taller lifts require longer lower control arms and shorter upper ones but I hear 2.5" and lower don't

Thanks in advance for any info.