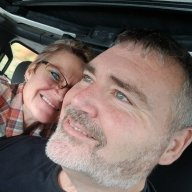 First Name

Ted
Joined

Aug 3, 2018
Threads
Messages
Reaction score

32,919
Location
Vehicle(s)

JL Unlimited Rubicon
Occupation

Retired from Corrections....I have stories.
So about every month or two if we are home and not out wheeling, we host what we call Coffee with the Wiborn's. It is a Jeep gathering for good coffee and a morning fire under a big walnut tree. Fellow Jeepers stop out about 830 am and we drink coffee and talk about Jeeps, and what ever over a morning fire. Moab EJS 22 was talked about and two houses in Moab was reserved around the fire yesterday. It is also a good time for people that are new to the local Jeep community to meet other Jeepers. Not really sure how many people and Jeeps rolled through yesterday, but I did snag some photo. I hell them to bring a chair and their own coffee mug.
I run two coffee pots and at times struggled to keep up. The coffee of the day was Highland Grog. I make the coffee out of the back of the camper.
These two Jeeps are doing the 11 month trip with me out west from Arizona to Alaska in 22.
This Jeep and its driver has done driven to and done all the badge trails, Many of them multiple times. He is called the Legend. He is a super guy and often a resource for me and he is the one that has inspired many of the trips that I have taken. Super helpful and just a all around good guy.
I have wheeled many times with this guy. He puts a beating on this TJ.
My wife loved this Gladiator..
This guy Jeep travels and wheels with me. Work has been beating him down lately and this was the first time in a month since his Jeep has been out of the garage.
The guy that bought this Jeep a few months ago, Stopped out to the house and I showed him how to use the Jeep he had bought. We talked about when to use 4h vs 4L, why you would disconnect your sway bar, airing down tires, how to use recovery tools, like winch, straps, soft shackles, and so on. where to find places to wheel and off road resources in general. Nice guy and he and his wife just started wheeling in their fifties.
Nice older Rubicon.
The guy that owns and wheels this Gladiator is a true ride and die friend. We have motorcycled, rode ATVs and Jeeped all over the place in the last 20+ years. I called him one time and said, Hey my motorcycle is not running right, can you come get me? I was in St. George Utah, he was in Lansing Michigan. To put it in perspective, that is 1,900 miles away. His response was, I will hook up the trail an be on the road in 15 minutes. Not once did he say, you have to cover my meals, fuel, hotel or anything. Just hey I will be on the road in 15 minutes. Love him like a brother. He has also rolled this Gladiator on its side. He wheels hard. While his job has moved him over 100 miles away, He is always close by.
Many people rolled through out the morning.
I brewed 18 pots of coffee through out the morning. I am asked to do this often as everyone that attends always has a good time. The next one will probably be in September as I have one weekend that we will not be gone and August is already full.