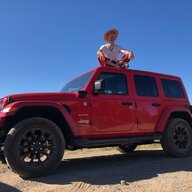 First Name

Scott
Joined

Jul 8, 2021
Messages
Reaction score

0
Location
Vehicle(s)

2021 Sahara 4xe
Hi All,
When my 4xe is plugged in and charging, sometimes I notice that the charger relay will start clicking on and off every couple of seconds for 10 or 20 minutes. My living room is directly above my charger, so I can hear it as it clicks. The green charging light on the car and charger toggles with the click.
Video of the issue is here.
I'm afraid something in my Jeep's circuit is confusing the charger. This constant cycling can't be good for the relays.
Adding to my concern is that my charger was reporting a fault last week that I was only able to clear by toggling the circuit breaker. I've had this charger with another plug-in hybrid for about five years now, I've never seen that happen.
Has anyone noticed this happening with your 4xe?
My charger is a Clipper Creek LCS-20.
Best!