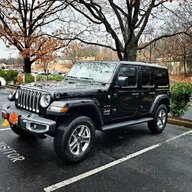 First Name

Nichole
Joined

Nov 30, 2017
Messages
Reaction score

332
Location
Vehicle(s)

2020 Jeep JL 3.0 Diesel, 2000 Chevrolet Camaro

TL;DR Got a CEL on the way home from DC and it's probably because I didn't personally push down the fuses and relays. Everything's probably fine but we'll see. Has 300 miles on odometer.



On Sunday, the plan was to take our friend back to MagFest in my new awesome Jeep. I was pretty nervous because it was only my second time driving it and I was in an unfamiliar place. The plan was to then head back to Richmond which is about a 2 hour drive down 95. On the way to MagFest the Check Engine Light came on… After waiting this long I was pretty upset. The lengthy evening deliberations, about the pitfalls of getting the latest and greatest vs. the tried and true… This one was a calculated risk though. We had discussed it at length, but now my imagination was going through all the potential downsides.


The chassis had been in production since 2018. The engine made its US debut in 2014. Then a few days after ordering we saw a youtube video where an FCA engineer discussed just how different the wrangler version of this engine was than what went into even the newest ram.


We called Koonz, but since it was Sunday, the service center was closed. Since we're not at home, we don't have a code reader. Autozone said their code reader was broken, but they could sell us a working one. Advance Auto was much more helpful.

3x P26FB: EGR Cooler Bypass Control Stuck Closed Bank 1

Called Koonz again with the new info, our dealer said he has no idea what that means, but if the CEL light isn't flashing it shouldn't do any damage to drive it. My partner, Ny has some recent experience with EGR issues from his 99 Celica, and wasn't too worried. We checked the relay box, most fuses were not pushed in all the way, and every relay was slightly loose and visibly crooked. Alright! A problem we could fix!


We drove home to Richmond through the periodic merge-down traffic jams of I-95. No issues in driving at all, just nervous because of the CEL. The next day (Monday) I called my favorite mechanic, Tim at Headlights to Tailpipes, for some advice. He recommended Whitten Brothers of Ashland VA for warranty work.


On Tuesday I go into Whitten Brothers for my 1100am appointment. Some scheduling hick-ups since there were no diesel techs available right away and they wanted to handle everything on this new vehicle as carefully as possible. They checked the electrical, vacuum, and mechanical elements of the troubled system and everything worked. They were able to clear the codes and send us on our way. It took about 3.5 hours total, part of that delay we could have probably compensated for. We now know that we should always say "It's a diesel, I need to have a diesel tech look at it" for anything engine related. Part of it was that they called a Chrysler engineer to get advice on exactly what to do. Everyone there was really nice, very helpful, and they kept us in the loop about what was happening. Unfortunately we couldn't be in the shop for insurance reasons.


It is obnoxious that I had this issue, but I knew I was at least in part signing up to be a test pilot. Nothing against FCA, that's just how all auto-makers work I suppose. After my experience at Whitten Bros of Ashland VA, I'm much less worried.




Moral of the story is even if the dealer tells you they pushed down all of the fuses and relays… Double check yourself.