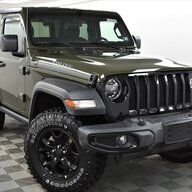 Joined

Mar 16, 2021
Messages
Reaction score

565
Location
Vehicle(s)

'21 2DR Willys 6MT
Some carmakers seem te be very keen about strange trends nobody asked for. I, for one, genuinely hate some of them.

1- Overly exaggerated center consoles
They look nice and shiny now. But they'll be obsolete in about 2 years. To make sure you want to buy another car soon, carmakers are putting the biggest screens, no knobs, with piano black. Piano black everywhere. I hate it. Oh, and they're designed to break. Since there's no standards, you can't replace it with any other system. Just give us what we need, nothing we don't.

2- Piano black
Who. In the blue hell. Decided. That. Was. A good. Idea. You scratch it in a matter of second, it collects dust and finger prints, it doesn't look nice in any way, shape or form. Carmakers, stop piano black. Seriously, stop it. STOP.

3- Fake exhausts/vents
Oh my God. Fake exhausts. I don't want to point fingers, but...VW Group, did you go completely nuts with fake exhausts? It doesn't look good, or cool, or sporty. It looks stupid. It's not even well integrated in the design of the car, most of the time. STOP IT. Get some help. As for vents...why would you want something that doesn't serve any purpose on your car? Why? It costs you extra money to build it and nobody cares. NOBODY.

4- Options you can't get for stupid reasons
So you go online to your configurator. "Wow, that's a nice spec. That's the one I want". Great. You call your dealer: "oh, unfortunately, you can't combine that lift kit with...these interior carpets!"

In what strange world can't you combine a lift kit with interior carpets? Who decided, in your multi-billion dollars company, that you can't order them together? What the hell is wrong with you?!

What are yours, like comment and subscribe?