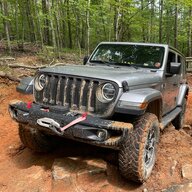 First Name

Sean
Joined

Mar 9, 2018
Messages
Reaction score

151,783
Location
Vehicle(s)

2018 Jeep Wrangler Sahara, 2017 Honda Accord Sport, 2003 Yamaha V Star 650 Silverado, 2014 Yamaha V Star 1300 Tourer
Occupation

Retired Marine, Construction Estimator
Vehicle Showcase
But it's still a parasitic loss on the powertrain at that point.

If I have a battery that is run down, how do I recharge it at a constant highway speed? From the engine, obviously. And if that's the case, then some of the engine's energy that could be put into propelling the vehicle is instead being put into charging the battery, thus making the engine less efficient than it would otherwise be.

Plus, the vehicle is hauling around an extra 800 lbs of weight.

As you note, hybrids make sense in urban and mixed driving. They make little sense -- from an efficiency standpoint -- for highway trips.
Partial parasitic loss. Its going to charge only to the point it needs for hybrid operation. The only time it will charge beyond that is if it is placed in E-Save plus charge, where it will indeed drag on the engine to charge the battery resulting in reduced MPG at that instance. Plus it won't even do autostops if its in that mode. I don't see any practical use for this unless you want maximum electric only for off road driving, and are charging it on the way to the trailhead.
But I think you and I can both agree that its not the best choice for regular long road trips.