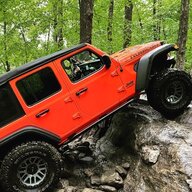 First Name

Scott
Joined

Jun 12, 2018
Threads
Messages
Reaction score

1,300
Location
Vehicle(s)

2019 JLUR in Punk'n Orange
Build Thread
Occupation

Turn Wrenches/ Write code
So, for some reason, SiriusXM is the default input on my UConnect. Every time it crashes, or does anything else wonky, it defaults back to SiriusXM, with their terrible "SUBSCRIBE NOW!" shout talking and gods-awful techno blaring ads. It's obnoxious and makes me even less likely to subscribe. Can I change my default to be one of the media slots? Can I turn off SXM completely (not techno and shout talking ads if I accidentally brush that button on the screen)? Will a Tazer do this? Or will I have to pull apart my dash and pull the yellow wire?

For reference: My free trial has been up for over a year and to be honest, I never used it. I just don't care for it. If it's for you, great, it's just not for me, and I don't want it/ am sick and tired of the ads with no way to turn it off other than "Mute" (which is not Off). I pretty much stream everything through my phone anyway.

also, before it starts:
NO, I DO NOT CARE HOW CHEAP IT IS AND THE OFFERS THEY'LL GIVE YOU.
NO, NONE OF THE CHANNELS APPEAL TO ME
NO, I DO NOT WISH TO DISCUSS/ DEBATE THE VALIDITY OF THE SERVICE (it's like arguing your favorite colors).
DO NOT WANT, WOULD NOT RECOMMEND.

If the only way to truly silence SXM is to unplug the yellow wire, I'll do that. I just figured I would ask first.